3 GUESTS
45 m²
80 € / PER NIGHT
WEEK PRICE
LUXURY AND SERENITY
The light, the sun, the morning mood. The day awakens and the hot spring water is waiting for you. This puts you in the right mood in the morning. Enjoy the sunny side of life in our thermal resort. The spacious double room Suite Wolke 7 (42 sqm) is located on the garden side (south) and is equipped with SHOWER/WC, tea-coffee kitchen with coffee pad machine and dishwasher, dining area, genuine leather couch, air conditioning, make-up area, two large LOEWE TV, high-speed Wi-Fi, radio, Telephone, in-room safe, balcony with sun protection and bathrobe. The sleeping area has a real wood parquet and the living area has an appealing carpeted floor. Breakfast, underground parking and constant entry to Therme eins are included. You can book the entrance to the Saunahof spontaneously on your chip during your stay. Enjoy the well-being and living feeling of your own four walls and feel at home.
Arrival & Well-being
Arrive and feel good. The thermalresort Koeck offers its guests everything their heart desires. From cosy, modern rooms to a rich breakfast buffet – with us no wish goes unheard. Warm, bright hues of soft turquoise, light blue and beige, or Royal Blue with gold accents blend with the beautiful materials and designer furniture. Modern lifestyle combined with the unobtrusive, elegantly furnished hotel apartments do not leave you without current technology. Air conditioning, automatic ventilation and ventilation of all rooms, generous HD TVs with SKY football, high-speed In-room Wi-Fi and a key-free chip system that takes you from the room via a 90 m short (natural) bathrobe walk directly into Therme 1 and in the Saunahof and there you can book your services without cash.
Your personal oasis of well-being
Sleep well...
And so to bed. Retire to our tranquil rooms and fall into the deepest sleep on our soft, fluffy pillows.
Specifics
Thanks to our keyless entry system, you no longer have to carry unnecessary room keys with you but can move around freely.
OUR NEW BREAKFAST ROOM - GOOD IN THE DAY
Being able to enjoy is a characteristic that helps the body and soul to balance and rest. A nice day at the thermal resort Of Köck starts with a healthy and varied breakfast. Let every wish be read by your eyes. Whether it's a 5-minute egg, a wholemeal bread with melting butter or a glass of orange juice. Your day in Therme 1 should start really well from the beginning. The table is covered. Look forward to the great buffet in the morning. Start your day quietly - breakfast is enough

Arrive relaxed by car - without looking for a parking space. On the covered, two-lane departure ramp you can comfortably enter the spacious underground car park of our thermal spa hotel. A parking space is guaranteed for each car. Even when you get off, they can have a calming effect on the warm, earthy hues. With a gentle music background, you first walk through the underground car park and then over the excitingly staged connecting passage to the hotel. You can park the car in the underground car park during your entire stay and experience Bad Füssing comfortably on foot without having to worry about a parking space. Look forward to a very special play of colours, which already makes the way from our free deep-cooked to the reception to a holiday.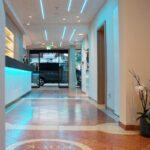 On your LOEWE TV you will find a really good program. In digital quality, you can watch about 50 channels, including SKY Bundesliga live.
Pull back the curtains – the view is too nice to ignore. This is Dolce Vita at koeck.
Therme 1 and Saunahof right outside the door
Our house is optimally connected to the Thermal Baths 1 by an exclusive bathrobe passage. This underground and heated connecting passage leads you directly, without detours from our house to the spa landscape of Therme I and the rustic Saunahof. Pull back the curtains – the view is too nice to ignore. The Koeck family has created the thermal resort as a place of peace and relaxation. In direct connection to the thermal spa landscape. Here you build up your strength and recover as if by yourself.
We are thrilled. Everything you want for a relaxing holiday can be found in the Thermalresort Köck. We'll be back. Ralf Zöls, Berlin
Radl
SUITE DELUXE SPA VIEW